Fellow Jamaicans and Friends,
Welcome to our website. We sincerely hope you find it informative as we endeavour to keep you up to date on all the Jamaica Hospital League of Friends' (JHLOF) activities. It is imperative to remind you that without your support the organisation would not exist. As Executive Committee members, we wish to work together with you to execute our desire to assist Jamaica's hospitals.
As health care workers living in the UK, with knowledge of the health care systems and facilities in Jamaica and having identified gaps in service provision and the wide range of clinical needs, we believe that as a charitable organization this is an area where we could lend our support. We are now in our 32nd year of this work with our many loyal supporters. Thank you.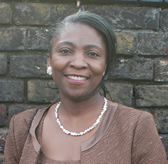 Chairperson: Dr Val Collington
With 32 years of commitment to supporting the health service in Jamaica I am pleased, on behalf of the Executive Committee, to report on ongoing achievements in providing medical equipment and supplies via the Ministry of Health to enhance services to those using health care facilities across the island.
Jamaica Hospitals League of Friends (JHLOF) remains a service focused charity that prides itself on delivering precise and carefully targeted medical aid and assistance to health care facilities with the view to achieving maximum effect on patient care and rehabilitation.
We hope you find our website informative as we endeavour to keep you up to date on all JHLOF activities and interests. In the past year we have made some necessary changes to our committee structure, including my appointment as Chair of the charity. We will continue to make adjustments to improve our effectiveness. In addition we have received support for and promotion of our charity via the London Marathon fundraising run, and through JHLOF's inclusion in the Devon Malcolm Benefit Year activities. These exposures have highlighted the work of the charity to a wider network of interested parties.
Despite a number of mitigating circumstances and difficulties encountered, our Trustees and supporters continue to work hard to help us achieve our goals. We were able to build on the huge amount of equipment provided to Jamaica over the past years with two recent consignments of donations including incubators, resuscitaires, portable ECG machines, ward furniture, hydraulic beds, trolleys and a variety of well needed medical and surgical supplies.
We remain committed in our service to Jamaica's health sector and people, endeavouring to keep the vision alive to help provide a satisfactory standard of health care for all Jamaican citizens. Many thanks to those individuals who have recently come on board to support this worthy cause, as well as, our longstanding supporters and fundraisers.
As you view the website pages, look at some of what we have accomplished together over the years since our inception. We are always looking for sponsors, donors and new members to join the charity and welcome both your financial support and your fundraising ideas too.
If you are reading this and you are not yet a JHLOF member, please consider joining this charity. There is much work to be done and we can make the difference by working together. The annual membership subscription of £20 will go a long way to help the charity achieve its goals.
Once again, I extend warmest thanks for your support over the years and look forward to us continuing this most vital and necessary work together in the future.
Stay Blessed,
Chair
Jamaica Hospitals League of Friends